"The success of every woman should be the inspiration to another. We should raise each other up. Make sure you're very courageous: be strong, be extremely kind, and above all be humble." Serena Williams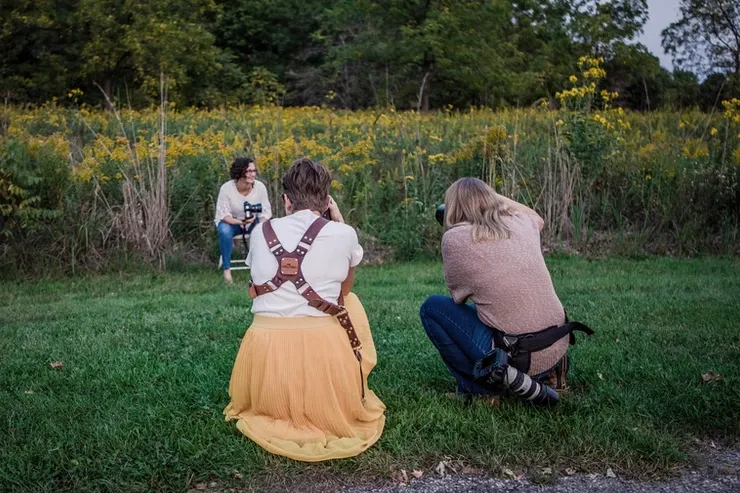 Madison is saturated with amazing family photographers. I belong to a group of only Madison area family photographers, and it has almost 400 members. And that is just family photographers! So the competition is out there, if you want to find it.
However, I am not a very competitive person, unless we are talking about sports, air hockey, and anything my BFF from high school can bet on... (Ask me how I help to turn my high school BFF from a die hard Brewer fan to a Cubs fan with just a bet! I love the Crew too, but it's a great story.)
But with work, and especially photography, I cannot do the competition thing. Your family photos are deeply personal, and should warm your soul when you view them. If one particular photographer doesn't do that for you, it's totally fine to find someone else who sees and understands your vision. Believe me, I have gone through my fair share of us. I have a style and a focus I want my family photos to have, as well. So I get it!
So, when I needed to get headshots done for my website, I figured it would be a great idea to find a couple other photographers who wanted some as well. So, a small group of us family photographers got together last week to help each other out. It was one of the best things I have done professionally. Being an introvert, I struggle with networking. So it was so enjoyable to meet and work with these three amazing women photographers.
It is easy to compare ourselves to others, to not think of ourselves as good enough, or as good as so-in-so. Hello Imposter Syndrome! But... that is not helpful to anyone working with a community over competition mindset. Competition is limiting. It gives us a goal of beating the next person, or winning the bid. There is no room for growth or for supporting each other, because the bottom line is The Win.
That is not how I operate, and luckily, I found colleagues with a similar mindset.
Our styles and techniques are somewhat similar and somewhat different, which worked out really well. We all used our own set of skills with each other to get the best shots. We were not trying to one-up each other, or show off our posing skills, or anything like that. We were there to help each other out, get a little conversation, and maybe build some lasting professional relationships, and that is exactly what we did. I had so much fun.
We started off by separating and doing one-on-one, but then realized it was more fun, and probably more productive if we all shot one person at the same time. I was surprised this worked as well as it did. I figured we would be each be trying to get the model to look at one of us, turn to the left, change the pose, etc... but it worked out really well. We didn't compete for space and we all got great shots. We each helped with posing, and that worked out wonderfully. We shot at sunset, so there was limited time with the best light. And we all knew that, and kept that in mind as we switched places and made room.
It was interesting to be on the opposite side of the camera. I have to say, I didn't love it. I am such an awkward person, and that is fine... it's who I am and I have learned to love that about myself. But when that awkwardness is documented, it is a different story. I had a hard time posing. I made funny faces, stood in funny ways, and had to be told more than once to relax my shoulders... Whudda thunk, I would be tense getting my picture taken... (I hope you caught that sarcasm there...) But hey, guess what. We were all a little uncomfortable in front of the camera. We all had questions about what to wear. And we all helped each other relax and feel a little less anxious on the other side.
So here is one of the many great photos taken of each of us women. Each photo has some of all of us in it, so crediting one of us isn't enough. Posing, shooting, fluffing of hair or clothing, picking apart and fixing of clothing or the background, all of it was a collaboration. Almost everything was a shared experience, except editing. Editing was done by ourselves, because we know how we want to present of ourselves better than anyone, right?
Anyway, it was wonderful to meet and work with these three amazing women entrepreneurs. Check out their work sometime.
Lindsey Mocca at JL Photography
Kelly McKenna Patterson at McKenna Patterson Photography
Jean Forde at Jean Pauline Photography
And thanks for reading!